All trail postings on the Connecticut Trail Finder have two types of information – Descriptive Information and Map information.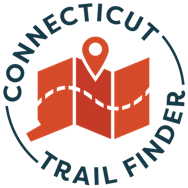 Start here! The Trail Documentation Guide explains how to get started, the anatomy of a trail posting, and tips and guidelines for developing postings.
Descriptive Information
The descriptive information includes items like trail name, type, uses, difficulty, accessibility and a description. The description can include links to other websites. Trail Finder wants to promote all of the work of trail organizations across the state!
The descriptive information is organized in the Trail Information Fillable Form (pdf) which can be completed, or at least approved, by the trail manager. The Trail Information Guide (pdf) explains in detail. As always, contact trails@uconn.edu with any questions.
Map Information
Every Trail Finder post contains two types of map information. The first is the lines, or the trails themselves. Line attributes include things like trail name, blaze color, notes, elevation value and surface type. If you are collecting trail GIS or GPS information, consider collecting it to align with the Connecticut Trail Standard for GIS data. Reach out to the Trails team if you have questions.
The second type of map information is points of interest. These include parking lots and trail heads along with restrooms, views, waterfalls, bridges, attractions and a whole lot more.
Tools and instructions for Trail Finder mapping are coming soon!
CT Trail Finder is administered by UConn Extension with the generous support of the CT Department of Energy and Environmental Protection (CT DEEP)  and the CT Department of Transportation (CT DOT). Other partners include the Capitol Region Council of Governments (CRCOG), Connecticut Forest & Park Association CFPA), Connecticut Trail Census, The National Park Service (NPS) Rivers, Trails and Conservation Assistance Program and the Connecticut Outdoor Recreation Alliance (CORA). Visit the Partners & Funders page to learn more.