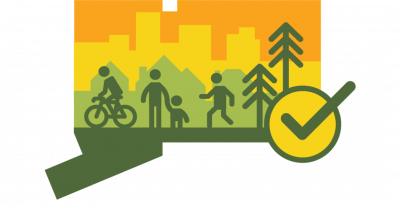 The Connecticut Trail Census is a statewide volunteer data collection program to inform a better understanding of multi-use trail use and to share data with trail groups, trail administrators, government agencies and the public. Funded by the CT DEEP Recreational Trails Program.
The Trail Census includes trail use counts recorded by infrared pedestrian counters and trail user intercept surveys. The project is statewide and serves community leaders and decision makers including local elected officials, planners, economic development professionals, trail advocates, trail maintenance professionals, environmental, health and outdoor activity advocates, as well as the public. The program was developed as a partnership program between the University of Connecticut, the Naugatuck Valley Council of Governments, the Connecticut Greenways Council, and local trail organizations.
Goals of the Connecticut Trail Census
To understand who is using Connecticut's multi-use trails when, why and by what means.
To educate trail user groups, administrators, state and local government agencies, and the general public about trails and their impacts.
To obtain multi-year information about trail use, user demographics, economic impacts, and trail amenities for identification of patterns and trends.
To promote active citizen participation in monitoring and understanding the value of trails.
To encourage sound trail building and maintenance programs based on collected data.
How it Works
Participating trails are paved or stone dust, multi-use, two-way trails.  Selected trail groups/organizations participate in volunteer trainings for infrared counter setup, maintain infrared counters (provided), conduct manual calibration counts, and communicate the results to constituents and partners.
UConn CLEAR ensures the collected data is disseminated through interactive data visualization tools. Visit the count data section to explore and interact with the trail count data.
Learn More
For more information about this program, to become a volunteer or to inquire about how your community or trail can be included, contact us at trails@uconn.edu.
This project is being conducted in a partnership between the Connecticut Greenways Council, Naugatuck Valley Council of Governments (NVCOG), UConn College of Agriculture, Health and Natural Resources  and the Center for Land Use Education and Research (CLEAR), and the CT Department of Energy and Environmental Protection.